Waterfall in Juneau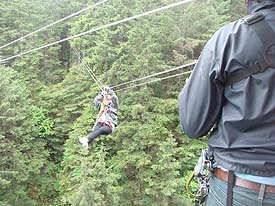 Rebecca on the zip-line
Entering the Yukon Territory

A Lot of Landscapes
My friend Neil Peart wrote in his book ROADSHOW that it's difficult to keep a detailed journal of daily activities when you spend all day full of activities. (He was much more eloquent; I have to paraphrase since I don't have the book with me on the ship.)
Right now my brain and my eyes feel numb and overwhelmed. The things we've seen simply beggar the vocabulary, and it's hard to wrap my mind around them. We've seen bears and bald eagles, humpback whales and sea otters, calving glaciers and countless waterfalls.
Yesterday morning the ship landed in Skagway, the starting point for the 1898 Klondike Gold Rush. Rebecca and I had signed up for a tour that took a bus up out of Alaska following the general Gold Rush route, into British Columbia and then Yukon Territory, over White Pass and deeper into the mountains. Thousands of "stampeders" passed this way more than a century ago, each person required to haul a ton of supplies (or the Mounties wouldn't allow them across the Canadian border). We passed a point below White Pass, Dead Horse Gulch, where 3000 horses and pack animals supposedly perished on the way up; the stench was so bad after the spring thaw that it could be smelled all the way down to Skagway, 40 miles away. Once the Gold Rushers crossed over White Pass they still had *600 miles* of wilderness to travel before they reached the Klondike gold fields. Fathers, mothers, families all risked everything to come out here in the hope of getting rich. They would winter on the other side of the pass, cut down trees to build their own boats on the shore of enormous Lake Tutshi and wait for the water to thaw so they could sail farther north toward the Klondike. I can't conceive of anyone volunteering for such an impossible ordeal on such a thin hope of success.
The bus dropped us off for a barbecue chicken lunch at a tourist trap "Caribou Crossing" where (thanks to kickbacks to the tour-company, no doubt) we were obliged to spend an hour and a half at the gift shop, sled dog exhibition, and taxidermy museum. I tried to call Brian on the cell phone but for some odd reason I got no service out in the Yukon.
After lunch we were taken to a railway depot where we boarded a narrow-gauge train to take us back down the Gold Rush trail to Skagway. One of the tourists fell and hurt her foot getting on the train, and an ambulance had to be called from Skagway, so we sat waiting on the train for an hour for medical help to arrive. (Skagway, we learned, has no doctor at all, only a nurse practitioner.) The nurse practitioner looked at the woman's injury, declared that she was fine, and finally the train got rolling. The scenery was tremendous all the way down, but now we were very late getting back to the ship, and Rebecca and I had very little time to see the quaint town itself.
The next day our ship pulled into Glacier Bay National Park, gently cruising through a channel over a thousand feet deep and passing spectacular ice-plugged inlets. We had been extremely impressed with the Mendenhall Glacier in Juneau, and here we saw glacier after glacier. I could barely fit all the views into my eyeballs -- snowcapped mountains, sheer rock faces, waterfalls feathering down nearly every crack, and the flat cliffs of cracked blue-white ice and snow that marked the terminus of each glacier. Everything was silent, and as we watched, chunks of snow flaked off and fell with an amazingly thunderous roar into the water below -- as seen on the Discovery Channel and practically every Alaska tourism video.
Since the ship did not come into any port, I had expected a quiet day to do a little writing and editing, but the ever-changing views kept me enthralled for hour after hour. I don't really get this "vacation" concept, where a person is supposed to sit around and relax (intentionally) -- i.e., do nothing. I keep thinking of ideas, new things I want to write down, new changes to stories or characters, new details to settings. Unless I download some of that, the pressure starts to build in my head. And with everything we've seen over the past week, the heap of ideas and details is growing very large indeed.
But we're out in open sea right now, in the Gulf of Alaska heading to College Fjord for tomorrow's sightseeing (the last day). It's 10 PM and still broad daylight, so I can at least put down these impressions and maybe expand another few chapters in the PAUL OF DUNE outline.
-- KJA