College Fjord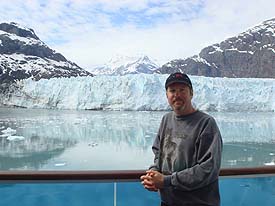 Kevin and the glacier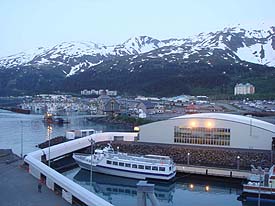 Whittier at Midnight

Home Again
Our last day of cruising was spent in another spectacular location, College Fjord, an amazing place with at least six different glaciers visible from one spot. The weather was sunny and perfect (apparently quite an anomaly here) -- so perfect, in fact, that the cruise ship dispatched a small boat with photographers to circle the boat and take pictures for Princess Cruise's PR. (So look at their upcoming brochures showing the Diamond Princess -- you may see me up on Deck 7!)
In addition to the various sightseeing I've described on the cruise, we also saw several shows onboard, a musical tribute to Billy Joel and Elton John, a standup comic, and a ventriloquist. Because I'm the cook around the house, I attended a demonstration by the head chef and then took a tour of the ship's enormous galley. We also watched the movie "Happy Feet" in their theater (what an incredibly weird film, with half a dozen themes that were never followed up -- I can't even imagine what the Hollywood pitch session must have sounded like.) And we ate far too much, mostly excellent meals, including all we could eat lobster tails and all we could eat king crab. Our dinner conversation often included discussions about the various diet and exercise programs we would start once we got home.
We arrived at our final destination in Whittier, Alaska, at about 11:30 PM. Rebecca had me take a photo of the town at midnight -- with no flash, under full daylight. Whittier didn't seem to be much more than a dock and a place to disembark, then a bus terminal to take passengers away to Anchorage, about 60 miles away overland. We ate a quick breakfast the next morning and had to leave the ship by 8 AM so they could clean the ship and get the next batch of passengers who were taking the reverse cruise back to Vancouver. We had another meal of king crab in Anchorage, which is a very "normal" cosmopolitan city, complete with a Starbucks and a brewery (so we felt that we were back in civilization).
Our 5-hour flight back to Denver departed from the Anchorage airport at 11:30 PM and flew through the night. We landed back home at 6:30 the next morning, very tired. I took a nap before I tackled the mountain of mail, packages, and telephone messages (before our planned Father's Day festivities later that afternoon). Among the goodies there, I found the typeset galleys for LAST DAYS OF KRYPTON (they had been sitting on my porch for five days, with a letter asking me to proofread them by, um, tomorrow), as well as a request for me to write the dust jacket copy for the book. Usually somebody in their marketing department writes that (and often I'm not satisfied with it, so I may as well do it myself). Also, Brian had faxed me his new version of the 63 chapter writeups in the "Emperor Muad'Dib" storyline of PAUL OF DUNE, so now we're ready to get started with the first draft. And I've edited only 200 of the 800 pages in THE ASHES OF WORLDS, six hundred more to go.
And, I finally received the electronic file of the final version of SANDWORMS (in unusable .pdf format, so now I have to convert it!), and I will be able to post the actual text to go along with my audio files.
Ah, it's good to be back at work again!
-- KJA
PS -- Brian told me on the phone today that he's writing some blogs, so you'll be hearing from him soon.