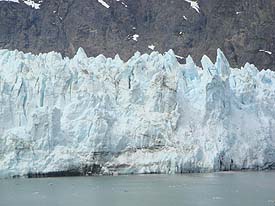 These 3 photos are Glacier Bay.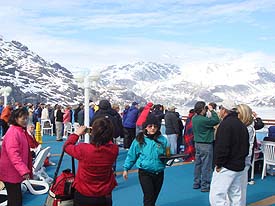 "Ah, the solitude of the wilderness..."

Cruising Along
Heading northward along the Alaska coast. After we departed on Saturday, we cruised all night and all day Sunday, through narrow channels (and in the pouring rain and thick clouds), and then into the open sea for a while, which made the boat rock and sway quite significantly. I don't get seasick, and Rebecca had planned ahead, wearing a small Scopalamine patch behind her ear. Unfortunately, many of the other passengers didn't do quite so well and numerous staircases and open areas were roped off "for sanitary purpose" (i.e. barf cleaning). With the day at sea, we relaxed on the deck and in the cabin. I edited several more chapters in THE ASHES OF WORLDS and fleshed out more of the PAUL OF DUNE outline while wearing a jacket and sitting on a deck chair, staring out at sea. We also spent time in the sauna and spa, and while I soaked in the hot tub on deck, the water sloshed from side to side as the boat rocked. Later, I took my tape recorder and walked around and around the ship, like a race track, and dictated some notes. Balance was quite a challenge, and most people were huddled inside, but I thought it was marvelous. Inside, I paid 55 cents/minute to read my e-mail with a very slow connection.
This morning (Monday) we docked in Ketchikan, Alaska, a very quaint seaside town. Buzzing seaplanes took off every few minutes. Fishing boats crisscrossed the channel. Rebecca and I walked around the waterfront, the shops, the old boardwalks in the historic district. Ketchikan is home to a large salmon hatchery, a community of bald eagles, and numerous totem poles. Though Ketchikan gets rain 240 days per year and measures rainfall in feet rather than inches, we had a perfect weather day. Rebecca hurt her ankle on our walk around the town and went back to the ship in mid-morning, so I took a couple of hours to do a strenuous hike into the lush rainforest around the town.
Because I finally had cell-phone reception again (after two days of No Signal), I listened to two voicemails from Brian Herbert discussing DUNE ideas, and I called him from the balcony of our cabin to brainstorm. The ship departed at 2:00 PM and cruised up through more narrow channels, past spectacular mountains rising right out of the water, and forested islands. (Sorry, I don't know the names of any of these landmarks because the cruise ship provides no detailed map of our route!) While eating dinner in the restaurant, we saw whales spouting very close to the ship. Later, we opted for watching another movie we had missed in the theater, "Night at the Museum," on the room TV (quite entertaining) rather than going to see the comedian/juggler in the lounge. At 10 PM it was still bright daylight outside; I stayed up until midnight and went out onto the deck, hoping I might get a chance to see the Northern Lights, but even then it still wasn't full dark.
Tuesday -- We woke up as the ship berthed in Juneau, and I opened the curtains to see spectacular steep mountains plunging directly down into the channel. Clouds hung about them, and the day was cool and moist. Rebecca and I had a quick buffet breakfast then met our first tour just on the pier. We were taken through Juneau and another dozen miles or so to the breathtaking Mendenhall Glacier. I have never seen anything like this in my life, a giant wall of blue-white ice more than a mile wide poised over a pristine lake. Icebergs drifted in the calm water. Crowds of people elbowed each other out of the way to get to the photo points. Rebecca and I walked one of the short trails, but her Ketchikan-injured ankle was bothering her, so she went to the Visitor's Center while I went out on a more strenuous hike around the lake and over a wall of boulders to get to a huge waterfall at the base of the glacier. It's impossible to convey how beautiful it all was.
The bus brought us back to the ship by noon, and we just had time for a quick lunch before our afternoon tour -- riding ziplines in the tall rainforest trees. A shuttle bus took us to a boat landing, from which a high-speed boat took us across the channel to Douglas Island, where we disembarked and went through an instruction briefing. Then we were harnessed up, shown aboard 6-wheel ATVs, and taken up steep mountain paths into the thickest rainforest. We hiked for another half mile or so past gold-mine ruins to the trees, the platforms, and the ziplines. This was like something from the planet Endor or Kashyyyk (for your Star Wars fans). Steel cables strung trees and platforms together, crossing deep gorges. Brian had told me that he'd done this, and loved it, but that he had barely managed to get up the nerve to take the first step. It was a little intimidating, seeing how incredibly high we were, more than 150 feet off the ground. We clipped our harnesses onto the cable, then stepped out into emptiness, soaring along with a high-pitched hum. We got moving up to 40 miles per hour, flying from one platform to the next. The longest line was almost 800 ft long, so we were dangling for quite some time. The first run was unnerving, but after that the adrenaline kicked in. We also bounced along two white-knuckler suspension bridges, and then belayed ourselves down the last high tree. The whole experience was totally new to me.
And that's important for a writer. It's why I consider it so vital to travel to new places and have new experiences. Everything I see and do goes into the list of mental ingredients from which I can draw for my writing. (And in PAUL OF DUNE some of the chapters take place on densely forested Ecaz, so I know I can use some of this material.)
Now, to do a little bit of editing before I turn in. Tomorrow, we leave for a long day trip on a train from Skagway, Alaska, up into Canada's Yukon Territory.
-- KJA