Butchart Gardens in Victoria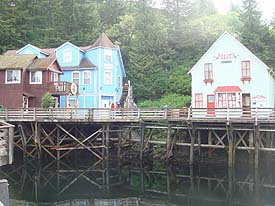 Ketchikan, Alaska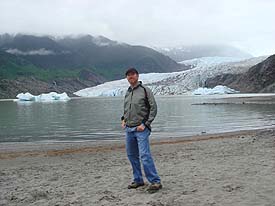 Mendenhall Glacier in Juneau

To Alaska
It's actually our first "vacation" in many years (though we're still managing to squeeze in a little writing and editing). For Rebecca's 50th birthday -- last November -- I promised her an Alaska cruise, and it took us this long to fit one into the schedule. (I'm never late on a book deadline, but birthday presents might take a little longer...)
Because I had been to Victoria and Vancouver Island when I was in college and remembered how beautiful it was, we decided to spend an extra two days there before the cruise ship departed. It was quite a headlong rush to get all the bags packed, letters written, and short deadlines done before our departure. Most challenging was the extensively expanded "Emperor Muad'Dib" story outline for PAUL OF DUNE (nearly 60 pages long), which I did manage to fax to Brian before our departure. During the cruise, I'll be doing the same treatment to the "Young Paul Atreides" storyline, the other half of the novel. Brian and I hope to start writing the actual manuscript by the middle of this month.
On Thursday Rebecca and I had a direct flight from Denver to Vancouver, a mere two hours, and then we would have to make our way by ferry to Victoria, where we had hotel reservations. The flight left at 11:17 and was due to arrive by 1:30, so we had plenty of time to get to the island and see some things that evening and all day Friday, before making our way to the cruise ship terminal in Vancouver on Saturday morning. As seasoned travelers familiar with incomprehensible delays, we always leave plenty of time for the airport. Thus it was that we drove up to the Denver airport early, and on the way Rebecca's cell phone rang with a recorded announcement from United that our flight had been cancelled. As I continued to drive, Rebecca called the ticketing office to be rescheduled. "How close are you to the airport?" the agent asked. "About half an hour away." "I think you can make this flight." She booked us on a 10:18 flight to San Francisco, then a connecting flight to Vancouver. We raced to the airport, and managed to check in with only minutes to spare, got onto the plane. It took off, flew for about 30 minutes, then developed a mechanical problem. We had to turn around, fly back to Denver, and land. Once the glitch was fixed, we refueled and took off again . . . by which time we had already missed our connecting flight and the next one to Vancouver wasn't for another five hours. That plane landed at 9:10 PM -- and the last ferry to Victoria was 9:00. So we couldn't get to our hotel at all that night. Finally, at about 10 PM, we checked into a hotel right at the airport and tried to figure out how we were getting over to Victoria the next morning.
That'll teach us for trying to take a vacation.
On Friday, with a bus to the ferry terminal, ferry to the island, then a bus to downtown Victoria and our hotel, we didn't check into our room until 2 PM (and we would have to leave at 9 AM the next morning to get to our cruise ship) -- so our two days of sightseeing in Victoria had been curtailed to half an afternoon and an evening. Time to go into Tourist Overdrive.
Rebecca and I had high tea at the famous Empress Hotel (she likes that Jane Austen stuff), and then we caught a bus up to the incredible Butchart Gardens -- one of the most spectacular botanical displays we have ever seen...but we only had an hour to run through the exhibits because our last bus back to the hotel left at 6 PM. Nevertheless, it was well worth the time spent. Finally, exhausted and back in our room, we decided to watch an in-room movie of "Ghost Rider" (extremely disappointing). After full dark, I dragged Rebecca back out onto the streets so she could see the Parliament building lit up at night (a magnificent sight), and then we went to bed.
The next morning, ready to head for the ferry terminal, I discovered that in the chaos before leaving home I had somehow forgotten to pack underwear! As Brian Herbert often says, "Travel is about solving problems." So, I was going to have a week of doing laundry in the sink each evening.
The ferry passed through pouring rain all the way to Vancouver (fortunately we had seen the channel islands scenery the day before), and then the bus fought through rain and massive road construction for about three hours (for a 40-minute scheduled trip), and we arrived at the cruise ship terminal. More lines, more paperwork, passport control, more lines, smile at the predatory photographers that are required to take a picture of every family boarding the ship so they can charge outrageous prices for a print, and then at last into our cabin.
Right now it's Sunday morning. Off and on I've been able to edit about 70 pages in the second draft of THE ASHES OF WORLDS and expand a few chapters in the PAUL OF DUNE outline. We're at sea all day today, gently rocking, heading up the coast to our first stop tomorrow in Ketchikan, Alaska. The weather is beautiful, a little cool with a few clouds in the sky. I hope to get some writing, and some relaxing, done today.
-- KJA