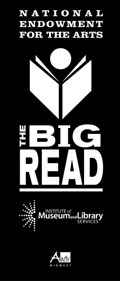 Kitsap Regional Library will host an interview with New York Times bestselling author, Brian Herbert, on Monday, February 25th. Brian Herbert is the author or over 20 novels and nonfiction works, including most recently Hunters of Dune (2006) and Sandworms of Dune (2007), both written in collaboration with Kevin J. Anderson. These two critically acclaimed novels are based on notes left by his father, the late Frank Herbert, the author of Dune, Dune Messiah, and Children of Dune. Brian Herbert's other works include numerous entries in the Dune series, the popular Timeweb series, and several nonfiction works, including a biography of his father entitled Dreamer of Dune.
This interview is part of the National Endowment of the Arts program, The Big Read, taking place throughout the month of February at the Bainbridge Island Branch of Kitsap Regional Library. The Bainbridge Branch is one of 127 organizations nationwide to receive an NEA grant to participate in this project. The interview with Herbert will be available to the public on Tuesday, Feb. 26th. You can find a link to the interview by going to the Kitsap Regional Library website or the KRL Reads Fahrenheit 451 blog.
The Big Read is a community forum about the ideas in Ray Bradbury's classic novel Fahrenheit 451. The Big Read culminates with a free screening of the movie, Fahrenheit451 at The Historic Lynwood Theatre on Bainbridge Island, on Tuesday February 26 at 7:00 pm, followed by a discussion on Civic Engagement at Andante Coffee on Bainbridge Island, Thursday, February 28th at 7:00 pm.
The NEA presents The Big Read in partnership with the Institute of Museum and Library Services and in cooperation with Arts Midwest. The Big Read in Kitsap County is also supported by the Paul G. Allen Family Foundation and the Bainbridge Island Friends of the Library.