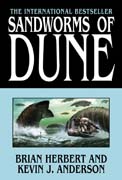 The End of the Tour
The last few days have been so busy I didn't have a chance to log on, much less post any blogs. We had booksellers luncheons, more signings, radio interviews, recording another interview with Scott Brick for an Audio Renaissance podcast, then a nighttime signing, to bed by 10, up again at 1:30 AM to get to an LA television station where Brian and I were on 15 live TV satellite interviews ("Good Morning, [city]", etc.) all around the country, then back to the hotel by 8:30 AM, a nap for a couple of hours, then meet the driver who drove us down to San Diego for our Mysterious Galaxy signing, the last stop on the tour, and then a drive all the way back up to our hotel in LA again. We arrived at 1 AM, for a 23-1/2 hour day.
Brian headed off to the train station early the next morning to go home (it was his and Jan's 40th wedding anniversary), and Rebecca and I treated ourselves to an In-n-Out Burger for lunch, before I had an appointment in a recording studio to do audio versions of three of my essays on writing. (When they're available, I'll post links to them here.) Afterward, Rebecca and I were taken off to our new hotel in Pasadena to begin the Writers of the Future weekend.
I've been a Writers of the Future judge for many years. Brian is also a judge, and this year Rebecca officially took on the duties as well. We met many other authors -- Tim Powers, Sean Williams, Larry Niven, Jerry Pournelle, Dave Wolverton, Doug Beason, KD Wentworth, Steven Savile -- and students. At that point, I was so tired I just wanted to get to bed early...but I had one last radio interview for SANDWORMS from midnight to 1 AM.
Next day, we had a special tour of the Jet Propulsion Laboratory, seeing all the amazing new robotics experiments for the space program. Later, Rebecca and I gave a two-hour workshop to the writers on "Things I Wish Some Pro Had Told Me When I Was Starting out." Then an evening barbecue where we chatted with the students as well as the new editor of the Science Fiction Book Club as well as the president of audible.com. Afterward, while Rebecca went to bed early, I slipped off with a couple of writers to the nearby Gordon Biersch brewery.
Friday night was the big black-tie awards ceremony and banquet at the Athenaeum on the CalTech campus. Scott Brick was our guest with his girlfriend Wendy. Rebecca, Doug Beason, and I presented awards to the prize-winning writers, and afterward we did a book signing at the gala reception. We managed to return to the hotel and get out of the formal clothes by 1 AM...with a wakeup call for 5:30 AM to catch our flight home (which was, naturally, delayed by two hours by the time we got to the airport). However, last night I did get to sleep in my own bed for the first time since August 4, which was wonderful.
On Thursday we leave for DragonCon in Atlanta...
-- KJA
PS - The transcription of our X-Fire webchat is available at X-Fire