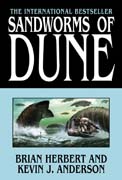 San Francisco to LA
On Thursday we left our hotel in San Francisco and drove down the peninsula to Half Moon Bay to Bay Books, where we have always had big crowds and signed hundreds of books. This year, we could not fit an actual event into the schedule, but Brian and I promised we would stop in the store and sign their copies. We gave an approximate time, and when we arrived we found more than a dozen people who had taken off work hoping to catch us in the store. It was an impromptu signing, in addition to the many copies of stock in the store, but we had to hurry off to our next appointment. In Livermore, we met for lunch with Deb Ray, our long-time friend and fan club president, checked into the hotel, and got ready for our Thursday evening program at the Livermore Public Library and civic center. I lived in Livermore for 13 years, working at the Lawrence Livermore National Laboratory as a technical writer; that's where I met Rebecca. Ironically, the hotel where we stayed is the same hotel the Livermore Lab booked me for my initial job interview there, almost 24 years ago. The crowd at the library filled the room, and I met a lot of my old friends and coworkers there.
On Friday, we had an interview on the Patt Morrison show for National Public Radio. The interview was scheduled for a little after noon in Pasadena...and unfortunately, we were up in the San Francisco area. So we had to get up at 5 AM and drive down to the LA area to reach the interview on time. That evening we had a signing in Pasadena at Vroman's book store. Before the signing, we all met at Lydia van Vogt's home in the Hollywood hills just under the big HOLLYWOOD sign. She treated us to wine and hors d'ouvres, showed us her husband's many awards including the Grand Master Hugo, all displayed on a shelf beside his many first editions. Lydia joined us for the signing and enjoyed herself very much, signing copies of SLAN HUNTER beside me. Scott Brick, our audio narrator, also joined us. Brian and Jan went out to dinner with Scott and his friend Wendy, while Rebecca and I took Lydia back home (we were dead tired after such a long day).
Saturday we could sleep in, for a few hours at least, then relaxed a bit for breakfast, before we had to leave again by 11:00 to meet for lunch before our Huntington Beach signing. We joined Scott Brick again, along with my typist Mary (who just sent me the very last transcribed chapters in PAUL OF DUNE) at the Cheesecake Factory, then we did our talk and signing at the Barnes & Noble in Huntington Beach. We've signed at that store for 7 of our 8 book-signing tours. Afterward, I met with friend and fellow rock fan Shawn Gordon, president of ProgRock Records for a beer and dinner, while Scott took a tired Brian back to the hotel.
This morning we have a few hours to catch up on things before we head off to Burbank for our afternoon signing. Only a few more days left. I miss my own bed...
-- KJA