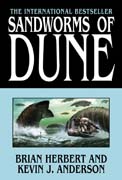 More Than Just Signings
Brian and I have been going from city to city, meeting fans in bookstores and autographing our novels. We had a large crowd in Sacramento, and last night we returned to one of our favorite independent bookstores, Borderlands Books in San Francisco.
But we've been doing a lot more than just book signings. Yesterday afternoon we went to Menlo Park to the offices of the popular computer-game IM series, XFire, who hosted an hour-long chat with the two of us and a hundred attendees (the maximum their chatroom would hold). Sitting side by side in a conference room at two computer stations, we answered questions as quickly as we could, typing away until the hour was over. The transcript will be available soon, and I'll post a link to it.
Right now it's early in the morning, and Brian and I are in the middle of a radio satellite tour. Each of us will be doing 14 radio interviews, back to back; my first one started at 5 AM, and they'll run straight through to 10 AM. (I just had a 20 minute break, long enough for me to run down to the lobby coffee shop and grab another cup to go.) We talked on CNN, National Public Radio, talk radio stations, adult contemporary music stations, hip-hop stations, country stations, Christian stations, American international radio -- all of which show the widespread appeal of the Dune novels (but then, you all knew that).
Today we have another lunch with local booksellers, then tonight we do a special "SF in SF" (science fiction in San Francisco) reading. Tomorrow we give a presentation at the Livermore library.
And we're only about half finished with the tour.
-- KJA