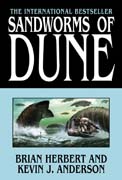 Sandworms of Dune Video Interview
The Expanded Books video interview about SANDWORMS OF DUNE is finally available. I described the filming of this interview at Brian's house in my blogs last March, while we were together plotting the detailed outline of PAUL OF DUNE. You can watch it here: Sandworms Video.
After our Saturday afternoon signing in Tigard, Oregon, we went to a wonderful dinner at a highly recommended (and hard to find) southern/Cajun restaurant in Portland. The next morning we each spent several hours working, then packaged up some of the miscellaneous unnecessary items we had picked up along the way and shipped them home so we don't have to carry them in our suitcases for the next few weeks. We got to the train station, climbed aboard our separate cars and holed up for the rest of the day, working on our laptops as the Pacific Northwest scenery rolled by. At dinner in the dining car, we passed through the Cascades...absolutely beautiful, and it made me long for a day or two of hiking. (Why does our tour happen during the best mountain hiking and camping weather every year?) I finished my first edit of all the PAUL OF DUNE chapters I had received from my typist (only seven left), and Brian completed writing another chapter. I managed only a few hours of jouncing sleep (I can never sleep well on the train), then woke up at 6 AM. I had time to attempt a shower inside the rocking and rattling cubicle, more for the purpose of waking up than of getting clean), and then was ready to disembark when the train pulled into the Sacramento station at 7 AM.
We got to the hotel by 7:30, and thankfully our rooms were available. I had a short nap, then went through the e-mail duties, and actually was able to swim and work out briefly. I worked a little on another project, and met Brian for lunch at a deli across the street from the hotel. In the afternoon we did an interview on the Sacramento National Public Radio station, and Brian and I went to the Firehouse restaurant, one of our favorite steak houses, located in Old Town. The signing at the Barnes & Noble was very well attended, about 70 people, and we met some old friends.
Now it's Tuesday (I think...it's hard to keep track), and we're about to head down to San Francisco for a web chat this afternoon and another signing tonight.
-- KJA