Crowds at the DC Comics signing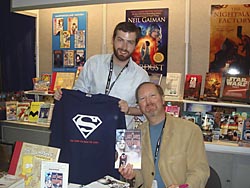 Kevin with HarperCollins
Marketing Director Michael Barrs

Comic Con Aftermath
Four days, 160,000 people, five signings, two panels . . . and a lot of excitement, craziness, and exhaustion.
Rebecca and I arrived on Thursday night, picked up our badges at the convention center, and met with our publicist Denise (the wife of artist Dave Dorman). For dinner, we had made plans with our friends Cherie (who has worked on many game shows and is helping me out with some research on an upcoming book) and Mary (my typist on PAUL OF DUNE). We ate at the Kansas City Barbecue, the site of the "sleazy bar scene" with Tom Cruise and Kelly McGillis in TOP GUN.
Next morning we had breakfast with my agent to discuss several ongoing projects and toss around ideas for others. This year at Comic Con there were a lot of agents, editors, and publishers representatives -- the whole event is getting to be more and more important for publishers, media, and fans. Then I did a signing at the HarperCollins table for LAST DAYS OF KRYPTON, giving out hundreds of the sample chapter booklet and about 250 t-shirts. We met our artist friend Michael David Ward for lunch, and then stopped by other publishers' booths for a few hours in the afternoon, meeting my Orbit editor for "Seven Suns" and several publicity and marketing people at Tor, then others at Ace/Berkley, Del Rey, Bantam. Rebecca had a panel and then an autographing later in the afternoon. In the evening we went to a dinner party for Tor Books at a hard-to-find seafood restaurant. (Several of the cabs got lost!) Not wanting to risk a taxi on the way back, Rebecca, F. Paul Wilson, and I hitched a ride with Orson Scott Card, who had a rental car but no map of San Diego...nevertheless, he got us back to the hotel just fine.
On Saturday we had breakfast with friends from Galaxy Press and Writers of the Future. I had another signing at the HarperCollins booth for KRYPTON, and then a huge autographing line at the crowded DC Comics booth. All together, we gave out well over a thousand copies of the KRYPTON booklet and 3000 SANDWORMS OF DUNE post-it pads. I had a panel on Saturday afternoon with Greg Bear, Corey Doctorow, Vernor Vinge, and Mike Shephard, and then an outside signing in a very warm tent. For dinner we went with a bunch of friends to celebrate the birthday of Len McCleod, a long-time friend who has just released his remake of the classic film THE CABINET OF DR. CALIGARI.
Sunday was a quieter day for us, with an enjoyable breakfast with our editor and VP of DC Comics to talk about THE LAST DAYS OF KRYPTON, then a little more time to explore the show floor, and lunch with fellow author and friend RH Stavis (see my Top Friends on MySpace) and computer game designer Alex Cruz. By mid-afternoon, I was pretty burned out from so many people and I finally retreated to my hotel room, where I did some editing on THE ASHES OF WORLDS (yes, that's the way I *relax*). The con was over, but we stayed an extra day in San Diego to see the Rush concert...which is the subject of the next blog.
-- KJA