Take a look at some of
Brian's other books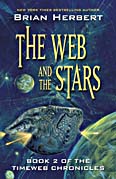 Why Hasn't Brian Herbert Been Blogging?
Many people know that I am not internet proficient, and that I only stand at the screen while others open up the worldwide web and help me with various tasks. At first this might seem ironic to anyone familiar with my books. After all, I am a science fiction author, so shouldn't I be enamored with all things technological? The short answer is NO. Maybe I'm old fashioned, or maybe I'm more of a people person. Perhaps it has something to do with the huge pile of e-mails I got each day a few years back when I did send and receive some correspondence electronically. I just couldn't answer all of those e-mails and also be a writer, a husband, and a father. Something had to give, so after only a short time getting my feet wet with e-mails, I took a step back in time.
I feel a real disconnect when faced with the necessity of using the internet. I know, there are nice people out there in the ether of the web, but I'd rather communicate with them in some other manner. I use the phone, faxes, and snail mail. I point to the fact that my father's great novel Dune is science fiction, but at the time of the events in the novel, computers and other forms of thinking machines are illegal. It was part of Frank Herbert's genius that he saw the dangers of technology, that it had to be carefully controlled. People must be able to pull the plug.
Some of my readers are probably wondering if I even use computers. I do, and I have done so for a couple of decades. I can type faster than I can write longhand, and there are many other advantages. My first word processor was a Number 2 pencil, so my early novels were all written longhand in their first draft and then typed on an electric typewriter. That was until around 1987, when I was talked into purchasing my first Apple computer. Since then, I've been hooked. For me, it's the Apple every day. Part of my blog absence is because I've been writing a lot. I think I wrote around 250,000 words in 2005, and all of them have either been published, or will be. My output in 2006 was similar, and this year I've kept up the pace. Kevin J. Anderson and I are hard at work on Paul of Dune, and earlier this year I completed Webdancers, the third novel in my Timeweb series. In addition, I recently edited the second book of the Timeweb series -- The Web and the Stars -- to be published in December, 2007. When Kevin and I complete Paul, other projects are waiting. But for now, I have blocked out time to write a few blogs. I hope you enjoy them.
-- BH