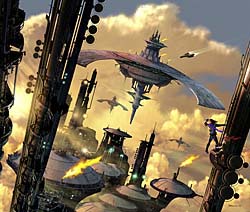 The End of an Era -- Saga of Seven Suns
Yesterday I went up to Rocky Mountain National Park for a ten-mile hike. The weather was beautiful, the streams were swollen with spring runoff, and the waterfalls and cascades couldn't have been better. During the walk, letting my imagination run free, I dictated the last five chapters in THE ASHES OF WORLDS, the final book in my "Saga of Seven Suns."
It's done. I can hardly believe it. This gigantic epic has filled the past seven years of my life, a continuous story that runs more than 5000 manuscript pages long. Now I've still got a lot of rewriting and tweaking to do, but I feel as if I've finished running a long marathon. Seven years to create this immense story...
Book 6, METAL SWARM, will be published in December (or July in the UK), and Book 7, THE ASHES OF WORLDS, should be in bookstores in July 2008.
-- KJA