Batman and Superman -- Enemies & Allies
I'm very pleased to be able to show the excellent new cover for my upcoming novel ENEMIES & ALLIES from Morrow and DC Comics, the first meeting of Batman and Superman in the 1950s during the Cold War.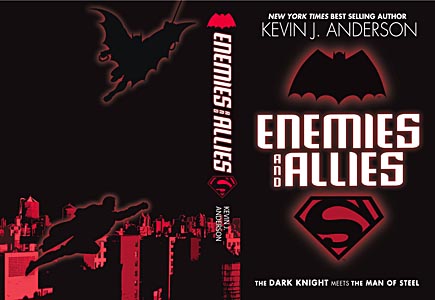 A not-so-long-ago decade when two of the greatest heroes of all time -- Batman and Superman -- first meet to save the world from bad guys like Lex Luthor and Soviet generals.
As Sputnik silently circles in the skies above the fabled cities of the United States -- Metropolis, Washington, DC, Chicago, Los Angeles, Gotham City -- danger lurks in Earth's darkest corners. Evil genius Lex Luthor, Superman's archenemy, is leveraging international tensions to build a military-industrial empire, competing against his business rival, Wayne Industries, which is run by Gotham City's enigmatic millionaire, Bruce Wayne. Meanwhile, the shadowy vigilante known as the Batman haunts Gotham's streets -- and the police are just as afraid of this Dark Knight as the criminals.
In Metropolis, Daily Planet reporters Clark Kent and Jimmy Olsen are investigating the rumored crash of a flying saucer. Clark is desperate to know if there may be other lost interplanetary visitors on Earth secretly among us -- visitors like himself. Their colleague, Lois Lane, is on an assignment of her own, pursuing a dangerous expose of LuthorCorp secrets.
As America and the USSR race to build bigger nuclear missile aimed at each other's great cities, two extraordinary heroes -- polar opposites in their attitudes and actions -- unite to fight evil and injustice, and add an exciting and unforgettable new chapter in their storied legends.
The book will be released on May 5. Within a week we will be offering *autographed hardcovers* for pre-order on www.anderzoneshop.com.
-- KJA