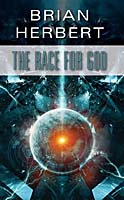 Mass Market Paperback: 394 pages
Publisher: Cosmos Pub.
Reprint edition: October 2, 2007
Language: English
ISBN: 0-843-95910-X
Trade Paperback: 224 pages
Publisher: Wildside Press
February 28, 2007
Language: English
ISBN: 0-809-55640-5

The Race for God Available in New Paperback Edition
Earlier this year, Brian's "The Race For God" was republished in trade paperback. Now it is available in a new mass market paperback edition.
The Race For God by Brian Herbert
In today's world of religious strife, this hilarious novel is a refreshing look at some of the similarities among the great religions, and the silly differences over which they fight. God has announced his location far across the universe, and the race is on among the followers of the leading Earth religions to see who can get there first. Along the way, they will stop at nothing to achieve their goal, even if it means killing anyone who gets in their way. This acclaimed novel explores many of the same religious themes that Brian Herbert and Kevin J. Anderson write about in the NY Times bestselling Dune series. But in The Race For God, be prepared to let your hair down a little, for a wild, irreverent ride through the cosmos!
For more information contact Wildside Press.
The Race For God can be ordered through your favorite bookstore, or from one of the following on-line merchants:
Be sure to look at all of Brian's books on the Wildside Press web site.
* * * * *
"Brian Herbert has an imagination as fertile as any at work in science fiction today." -- Fantasy Review, on The Race For God
"Brian Herbert's work is unusually inventive and original. He displays real talent." -- Publishers Weekly, on Sidney's Comet