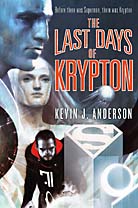 Last Day's of Krypton Sample Chapters
HarperCollins has posted the first sample chapters for LAST DAYS OF KRYPTON. For a sneak preview of the opening of the novel, with Jor-El and the Phantom Zone, check out the HarperCollins Books Website.
The book comes out Tuesday Oct 23. Remember, if you'd like to order an autographed or personalized copy, be sure to contact Changing Hands within the next week.
-- KJA