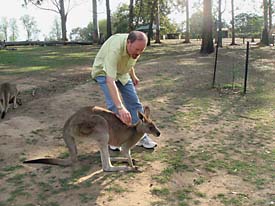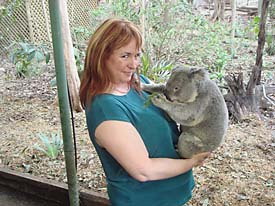 Brisbane Writers Festival
Leaving Auckland, we arrived in Brisbane, Australia for the start of the Brisbane Writers Festival, which hosted 120 writers as guests; the total attendance was around 50,000 people.
On the full flight over from Auckland, Rebecca and I were crowded in our seats, she in the middle, me against the window; because most of the seats had already been assigned to more-senior Air New Zealand flyers, we found ourselves in the middle of the (no kidding) "families with children" section -- and so the three and a half hour flight was a non-stop chorus of wailing and crying at a pitch that even my i-pod headphones and Geddy Lee's voice could not counteract. Nevertheless, this was a few hours of work time for me, without other obligations, and so I soldiered on, working through new scenes in THE ASHES OF WORLDS, rearranging chapters, revising the timeline.
Brisbane is a very modern-looking city, with squarish architecture, minimalist décor in the hotel rooms, all very new and revamped during its recent heyday of the 1988 World Expo that was held there. Brisbane takes its culture seriously, with much attention given to their giant library, their performing art center, outside concert piazzas, art museums, a beautiful riverwalk, outdoor cafes and walking districts, etc.
Within two hours after landing, Rebecca and I were scheduled to give a three-hour workshop of "Things I Wish Some Pro Had Told Me When I Was Just Starting out." Attendees had signed up ahead of time, and we filled the allowable number of seats. We gave the class, then returned to the hotel room, deciding we were too worn out to attend the opening ceremonies and speeches. Instead, we walked along the many shops and cafes of the river promenade and ate dinner in a Greek seafood restaurant.
Next day, I explored the river walk in the morning, taking my tape recorder and dictating three new chapters for ASHES OF WORLDS. Rebecca and I had to give two hour-long panels that day, both of them about our Star Wars work -- one tailored for schoolchildren at midday and a repeat performance (but for an adult audience) in a large auditorium that evening. The publisher's representative, Ian, met us, joined us for our signings, and made us feel very welcome.
The following day, I wrote another two scenes in the morning along the riverwalk. Rebecca had one panel in the afternoon on creating fantasy worlds, but we wanted a light schedule, because that day was our 16th wedding anniversary. Ian met us after Rebecca's panel and took us to a Brisbane wildlife sanctuary, where we saw a great many koalas and kangaroos. Rebecca cuddled a koala, and we both got to pet kangaroos, then we saw a fine array of lizards, wallabees, dingos, emus, even a monstrous-looking cassowary. Getting back by evening, we found a nice restaurant for our anniversary dinner.
Our busiest day was Saturday, with Rebecca giving a panel about worldbuilding; I had a solo panel about the Saga of Seven Suns, then we gave a two-hour workshop on "How to Increase Your Writing Productivity." In the evening in the large auditorium I had an hour-long interview about the Dune novels, and Rebecca joined a panel about vampires. We each recorded a video interview to be broadcast at the next year's Aurealis Awards (the Australian SF award), and then we had a drink with several Australian writer friends. Finally, back to the hotel room to pack for our next day's early morning flight to Perth, on the other side of Australia.
-- KJA