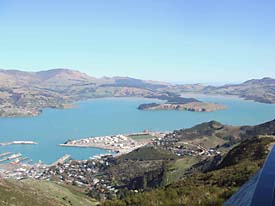 View from the Christchurch gondola

The Southern Alps

The Devil's Punchbowl Falls

The Devil's Punchbowl

501st members in Christchurch

The ubiquitous New Zealand sheep

Akaroa Harbor

501st members in Auckland

New Zealand Book Signings
From Rebecca: It's been a long time since we left home (30 hrs and counting), but we've arrived in Auckland and are waiting in the Air New Zealand Koru Club for our onward flight to Christchurch (4 hour layover).
Very civilized here in the lounge. Free beverages (coffee/cappuccino drinks, mineral water, juice, wines, beers, soft drinks, etc.), free food (meat, cheeses, soup, salads!, fruit, baked beans, pita & hummus, crumpets & jam, fresh steamed mussels, muesli, yogurt, licorice allsorts), free magazines and newspapers, free showers (with shampoo, soap, towels, etc. provided), free wireless internet, and huge flatscreen TVs on all the walls showing news. The same was true for our 5-hour layover in L.A.'s International Koru Club. Our flight was delayed by an hour, but that didn't bother us, since we got plenty of work done in the club and had everything we could possibly need. After many hours of happy editing, Kevin caught a shower before the flight, which put him in a much more relaxed mood than he'd been in leading up to our trip.
Because Simon & Schuster, the publisher of Kevin's Seven Suns books in the UK, Australia & New Zealand, had been gracious enough to buy us Business Class tickets, Kevin and I had the most enjoyable long-distance flight we've ever been on, with individual booths for each passenger -- complete with private seats that go all the way flat for sleeping; entertainment systems with hundreds of on-demand movies, TV shows, music playlists, games, and travel videos; and 2' x 2' worktable. Amazingly, we each got 6-7 hrs of sleep (more than we often get at home) and have arrived feeling pretty darned perky, thank you.
We're safe and rested and ready to meet New Zealand head-on.
PS Did I mention how friendly everyone here has been?
From Kevin: We flew from Auckland NZ (in the north island) down to Christchurch (in the south island) where we had arranged to stay with friends Carol and Charlie and their kids Conrad and Catherine. They had moved from the US thirteen years ago, when Charlie accepted a lecturer's position at the University of Canterbury; this was our first time visiting them.
Flying over New Zealand, I have to say the country makes a fine first impression. The scenery was breathtaking, the skies clear and blue, and the mountains, rivers, and plains were quite stunning, even though we were both somewhat bleary-eyed by then. Carol picked us up at the airport and took us to the house, where we unpacked in the spare bedroom, freshened up, changed clothes, then set off for lunch and a little sightseeing. Because the schedule for the signing tour is quite packed, we had to take advantage of every opportunity to see what we could.
We ate traditional New Zealand savory pies from a bakery, then wandered around the Christchurch main square. Carol took us to a scenic gondola, which led to a fantastic view of the city, the ocean, the harbor. Our time was tight, since I had to be on a Christchurch TV interview that afternoon (only a few hours after landing), so we raced back into the city center. I changed into "TV-presentable" clothes in the back of the van, then went into the TV station, dead on my feet. I nearly fell asleep in the makeup chair, but the interviewer -- Jo Giles, who was also, incidentally, running for mayor of the city -- came in to chat with me beforehand. We then recorded a good half-hour-long TV interview, after which I was free of obligations for the rest of the day. We all met Charlie and the kids for a reception at the University staff club (where I sampled some of the excellent local microbrews), then came back home for a dinner of steamed mussels and lamb chops, both typical NZ fare.
Next morning I got up early for a radio interview, and then we were off for the day; Charlie drove us into the incredible Southern Alps, winding up to the top of Arthur's Pass, where we hiked to a crashing waterfall, the Devil's Punchbowl. On the way back, we stopped in at Scorpio Books, where we had a signing scheduled for the next day, to see the impressive displays and posters the managers had set out to promote the event.
On Sunday, trying to fit in one more day of crash-course sightseeing, we drove to another part of the mountains and Hanmer Hot Springs, where we all had a soak in the hot mineral pools. Because I was still trying to finish revisions and additions to ASHES OF WORLDS (it's due as soon as I get back home!) I left the hot pools early, changed clothes, and went for an hour hike up Conical Hill, which overlooks the valley. On the way, I dictated three new scenes or short chapters. I'd finished a lot of revising and rearranging of the manuscript while on the long plane flight, but there's still a lot to do before I'll consider myself completely satisfied with this final volume.
Finished with my writing and hiking, I met up with the rest of the group, and we drove back to Christchurch in time for the signing. Seven members of the 501st had shown up in full-regalia -- stormtroopers, Darth Vader, a bike trooper, even a Jawa and two full-fledged Tusken Raiders. These Star Wars enthusiasts made the event much more interesting, and I was very pleased they had come. The bookstore manager served wine, fresh orange juice, and several varieties of local beer, along with an extensive spread of "nibbles," which included calamari, red curry mussels, chicken, hummus, and vegetables. This was my first-ever signing in the southern hemisphere, and we had a very good crowd.
We were due to fly back to Auckland Monday afternoon, but I got up early and walked for an hour along a local forested path to finish dictating another two chapters in ASHES. By 9:00 AM, we packed our suitcases into Carol's car and she drove us to the Banks Peninsula, a rugged coastline with many picturesque bays and tiny scenic towns. In the town of Akaroa, we looked at some exhibits of Maori culture and legends, and I was pleasantly surprised to find several items that were perfectly appropriate for my current research in developing the universe and background for the TERRA INCOGNITA fantasy series. A writer always has to keep his eyes open.
We reached the airport, said our goodbyes to Carol, then got on board for the flight up to the north island. It was a very crowded flight with impossibly cramped seats; I tried to work, but I couldn't even open my laptop . . . so I just read a book instead (THE REALM OF PRESTER JOHN by Robert Silverberg). We were met in the airport by the publisher's representatives, Lise and Clint, who took us off to our hotel. By now it was dark, and so Rebecca and I had dinner in the hotel restaurant, then went to bed early.
Next day, Rebecca had some time to herself while Lise took me to six interviews -- a TV current events show that filmed me in a small bookstore, an experimental rock radio station, a lifestyle magazine, a newspaper, college radio station, and a news radio station. I got back to my room in time for a quick shower and change, then we were off to the night's signing at Dymock's.
Again, the posters and displays were impressive and eye-catching, but the bookstore was almost empty when we walked in. I worried that we wouldn't have much of a crowd, since the signing was scheduled to start in only a few minutes. Then another seven fully armored and costumed members of the north island contingent of the 501st marched out from the back room, two stormtroopers, a battered clone wars trooper, a small Jedi, and two female Imperial officers. A few fans came in to get their books signed -- and then within minutes dozens more customers streamed in to fill the room. I gave a short talk, answered questions, then signed books. Afterward, Lise and Clint took us to a seafood restaurant on the Auckland harbor, and when I returned to the room and checked my e-mail, I received a message from the publisher that METAL SWARM has reached #7 on the Dymock's chain bestseller list for science fiction. SANDWORMS OF DUNE has also just been released in New Zealand and we sold plenty of copies of that book, too.
That's all for New Zealand -- a breathtaking and impressive country, with some of the best scenery I've ever witnessed. Definitely something to come back to, at a time when I can spend weeks tramping around. Next, it's off at 7 AM to Australia and the Brisbane Writers Festival.
-- KJA