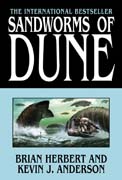 Sandworms of Dune Web Chat
Yesterday Brian and I did some work in the morning, then we went off to a half-our radio interview and then a luncheon with other booksellers from Powells and Borders, so we could get to know the people who do all the work of selling our novels in their various stores. Afterward we went to Powells Books, the "City of Books" -- their flagship store in downtown Portland -- and signed all the stock of SANDWORMS as well as all of our backstock. We had a brief respite in the afternoon back at the hotel (I edited two chapters, Brian wrote most of a new one), and then we headed out to Beaverton for our evening signing at another Powell's location. We stopped for a delicious dinner at a Thai restaurant, then went to the store for the event. Though the Portland newspapers had published contradictory times for the signing, we still had an audience of nearly 50 people. I was pleased to meet several of my MySpace "friends" as well as fans who follow the dunenovels blog.
Afterward, our driver dropped Brian off at the hotel (he wanted to rest and decompress), then she took me out to the Amnesia Brewery, an absolutely perfect hole-in-the-wall that seemed to be out in the middle of nowhere, with delicious microbrews, picnic tables under tents in an outside beer garden. This morning I went to the Portland farmer's market (Starbucks coffee and fresh peaches for breakfast), and we both have most of the day to do writing in our rooms before heading out to the evening's signing in Tigard.
Heads up -- Brian and I are doing a live web chat on Xfire at 3 PM Tuesday, August 14. (Yes, BRIAN actually on the web!) For more information, here's their press release:
Sci-Fi Week will be held on Xfire from August 13 ­ 17. During Sci-Fi Week, people have the amazing opportunity to chat online with their favorite science fiction and fantasy authors and artists, such as Larry Niven, Jim Butcher, Brian Herbert, and Kevin J. Anderson. Participants can also win awesome prizes like signed books. Over 100 prizes will be given out during the week.
"Xfire Sci-Fi Week" guests:
2007 Hugo Award nominees for Best Novel: Charles Stross ("Glasshouse"), Vernor Vinge ("Rainbows End"), and Peter Watts ("Blindsight")
Dan Abnett, writer of the "Warhammer" novels, "The Saint" and "Brothers of the Snake"
Jim Butcher, author of "The Dresden Files"
Brian Herbert and Kevin J. Anderson, authors of the new "Dune" novels
James Patrick Kelly, author of the 2006 Nebula Award-winning novella, "Burn"
Larry Niven, author of "Ringworld", which received Hugo, Locus, Ditmar and Nebula awards
Jerry Pournelle, author of "Burning Tower"
R. Stevens, creator of the webcomic "Diesel Sweeties"
Michael Whelan, renowned science fiction and fantasy artist, winner of 15 Hugo awards and 3 World Fantasy Awards
and the Xfire Community
What is Xfire? Xfire (http://www.xfire.com/) is a community of 8 million gamers ­ one of the largest in the world. Xfire not only provides free in-game communications, but it also provides extraordinary opportunities to attend online events such as Sci-Fi Week.
For more details on Xfire's Sci-Fi Week, please visit the Sci-Fi Week website at http://www.xfire.com/scifi.
-- KJA