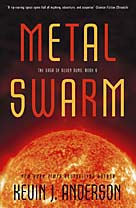 Pre-order Your
US Hardcover
Copy Today!

A New Look for "Seven Suns"
To celebrate the release of Seven Suns #6: METAL SWARM this December, Orbit Books has redesigned the look of the entire series. Stephen Youll did the excellent paintings for the first incarnation of the books (he is also the artist on all the new DUNE novels), but the publisher is experimenting with a completely different approach.
The first five volumes will be reissued in paperback in November with all new covers. The hardcover of #6 comes out a month later. For those of you who can't wait until December, the British edition of METAL SWARM was released in July and is available directly from amazon.co.uk, or any online UK bookstore.
In the meantime, I have finished writing THE ASHES OF WORLDS, the seventh and final volume in The Saga of Seven Suns, and I'm currently editing the manuscript (third draft now). Book #7 is due to be published (US and UK) in July 2008.
-- KJA