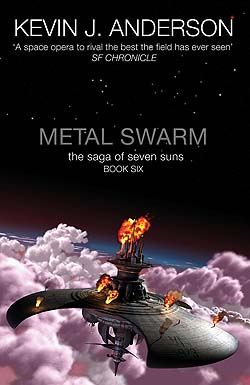 Metal Swarm Released
Book 6 in the Saga of Seven Suns, METAL SWARM, has just been released in the UK and Australia. I've already received several letters from those of you who have read it in the first two days (man, how do you do that???). Right now the novel is already on the British bestseller lists, ranked as #46 in sales for all books, fiction and nonfiction, hardcover or paperback, adult or childrens.
The US edition won't be released until December, but for those of you who can't wait, you can order the British edition from amazon.co.uk.
Meanwhile, I'm nearing the end of my first thorough edit of THE ASHES OF WORLDS, in the midst of the big finale and (sniff) saying goodbye to a lot of characters who have been with me for many years.
-- KJA