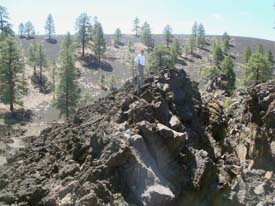 It's a Grand Canyon
I am in the middle of a spectacular expedition I've been planning for some time. Tim and I (the same Tim who treks around Moab with me and climbs 14,000-ft peaks in Colorado) made up our minds last winter to hike down to the bottom of the Grand Canyon and back up in a day. No, the rangers and the park service do not encourage such a thing, but we've been through a great many strenuous and extended hikes.
On Monday we left at 6 AM and drove across Colorado, past the Great Sand Dunes National Park, where Brian Herbert and I had our much-used first author photos taken, then over infamous Wolf Creek Pass, and down into Durango by lunchtime. Leaving Durango, we passed Mesa Verde National Park (which I've visited several times), and then down to the Four Corners. This is a completely arbitrary and artificial monument, but we paid $6 to drive the car a few hundred feet, then stepped out among a sparse crowd, windblown empty shacks where in more popular seasons Navajo craftsmen would sell jewelry, and a few stray and bony-looking dogs. We stepped on a platform marked with an "X" demarcating the point where Colorado, New Mexico, Utah, and Arizona all join, took pictures, then drove off. We got gas at a small trading post in the Navajo reservation, where the people came out to greet us, amazingly friendly. Then by late afternoon, chasing unexpected clouds that dumped a sparkling white curtain of hail across the road and hillsides, we arrived at Canyon de Chelly National Monument, a vast and complicated palm-shaped network of deep canyons that held many old Anasazi ruins. The rim drive took us to several overlooks, where we could see farms and shepherds down at the bottom of the canyons. We spent about three hours driving along the winding road until late dusk, and we still had a long way to go. Because I have read and enjoyed Tony Hillerman's fine Navajo thrillers, I was very pleased to see many of the places that figure prominently in those novels -- Lukachukai, Chinle, Window Rock, Shiprock, the Hubbell Trading Post.
It was well after dark by the time we hit Interstate 40 and began the long drive westward toward Flagstaff, where we had hotel reservations at the Econo-Lodge. By 8:30 PM we were passing Holbrook, AZ, and our last chance for a quick dinner. Because we had eaten a good lunch in Durango, we settled for a KFC. It was only ten minutes before they closed, and the servers packed our to-go box with twice as much chicken as we had ordered (I supposed they would have thrown it out anyway) -- far more than we wanted, or could eat. We finally got to our motel room at about 10:30 PM and crashed almost as soon as we got settled.
Next morning after a continental breakfast in the Econo-Inn (white bread for toast, orange juice, and a pre-packaged danish...I chose to eat a protein bar instead), we drove off toward the Grand Canyon to see some of the other sights along the way and to scope out the trailheads for our big hike on Wednesday. Our first stop was the Walnut Canyon National Monument (well, our second stop...first stop was a Starbucks in Flagstaff). Walnut Canyon is a deep canyon whose walls are dotted with more Indian ruins; we did a short hike around the ruins, then set off again north toward Sunset Crater, a very colorful cinder cone and extensive lava flow. During a brief period of cell-phone reception, Brian Herbert called to discuss some press releases for SANDWORMS OF DUNE. We talked a while, remembering our last book-signing in Flagstaff (we had taken the Amtrak there, done an evening signing, then left again at 5 AM the following morning), and then I lost the signal. In Sunset Crater, Tim and I hiked the spectacular and tedious lava flow trail, picking our way across very sharp and unstable lava rock. I tried to use the tape recorder here as well as in Walnut Canyon, attempting to get a Seven Suns chapter written, but I didn't get all the way finished -- the trails were too short, and the parks seemed to be full of loud and rowdy kids on school field trips...not great for a writer's concentration. Next stop was the Wupatki National Monument, another large complex of abandoned Pueblo Indian ruins. By this point, we were anxious to be moving on, so we saw only the largest set of ruins, then took the road out of the park only to be stalled for about half an hour by road construction.
Then finally it was north to the Grand Canyon itself. We drove through barren Painted Desert to scrubby highlands, gaining altitude (the Canyon rim is at 7000 ft), and at last we entered the park, driving to the first main overlook, Desert View. We simply stared. The Grand Canyon is so immense a person just can't fit it into his eyeballs or mind. I talked with a ranger and got advice about our hike on Wednesday, primarily working on the logistics for the car shuttle. We intended to hike down the South Kaibab trail to the bottom, then hike up the famous Bright Angel trail. The ranger helped us to arrange for the transportation, then we drove off to the other overlooks. We found our first trailhead, scoped it out, and figured we wouldn't have any problem. Since these trails are used by the mule trains, the path is several feet wide and well maintained. We could crawl up in the dark if we had to.
We checked into our hotel outside the park boundary, a nice Quality Inn with a hot tub (we figured we'd need it tomorrow after the long hike), at dinner at the -- no kidding -- Yippie Ei O! Steak House and came back to double-check our packs, weeding out every ounce of unnecessary weight.
Now, time for bed -- the alarm will go off at 4:30 AM for a start on the trail by dawn.
-- KJA