Click on a cover to order!
Hellstrom's Hive is now available.
Order your copy today!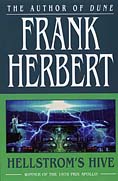 Before the publication of DUNE: HOUSE ATREIDES, all of Frank Herbert's non-DUNE titles were unavailable except in used book stores. Now, with a new audience and increased attention on the author, eight of these books have been brought back into print.
Two years ago Tor Books released regular paperback editions of four of Frank Herbert's other classics,
We are pleased to announce that we have reached agreement with Tor Books to republish four of Frank Herbert's original novels in trade paperback format. These titles are some of Frank Herbert's best work and have, unfortunately, been long out of print. Soon readers will once again be able to read the classics,
THE WHITE PLAGUE,
THE DRAGON IN THE SEA, and
WHIPPING STAR.
Presented in a handsome trade paperback format, the books will be more durable and better looking than mass market paperbacks. This is in response to requests from fans for Frank Herbert titles that they can keep on their bookshelves for many years. We hope there will be more to come.