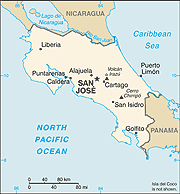 Costa Rica
After passing through the Panama Canal and traveling northward up the Pacific coast of Central America, our first stop was at Puntarenas, Costa Rica. I opted for a "strenuous" all-day tour to hike volcanoes and see some of the country's most spectacular waterfalls, while Rebecca and her parents chose a much shorter bus tour -- since none of them wanted to sit on a bus for so many hours. (Um, not the "short bus" tour.) My group left early in the morning, driving through the port city, then up into the rugged and gorgeous green mountains.
I immediately felt a good vibe about Costa Rica, with its spectacular jungled landscape, its colorful towns, and its clearly healthy economy. The views were breathtaking as we looked back to the ocean while climbing higher into the mountains. The sky was patchy with clouds. We passed large sugarcane fields, then flower and fern greenhouses, then strawberry fields, and finally extensive coffee plantations. We stopped to pick a few coffee beans, even tasted them fresh off the tree (very interesting, a mild and moist fruit). We also learned the difference in types of coffee -- and over the course of our trip, we were told (in Colombia) that Colombian coffee is the best, or (in Costa Rica) that Costa Rican coffee is the best, or (in Guatemala) that Guatemalan coffee is the best. I tasted and enjoyed them all.
As the bus kept climbing to the heights of the main volcano, we ascended directly into clouds and were soon driving through a complete downpour. Reaching the volcano park, we put on our rain slickers and slogged through flooded trails and sheeting rain to reach the crater (where we could see nothing, but we did get soaked). The bus then drove on winding roads, dodging fallen trees and mudslide, to reach a sanctuary/resort. The tourguide led us -- again in drenching rain -- through a scarlet macaw sanctuary as well as separate areas for monkeys, toucans, and two completely amazing sanctuaries filled with tropical butterflies and hummingbirds. We took shelter inside for a buffet lunch, but the rain never let up. We learned that the trails to the spectacular waterfalls were flooded out and closed, so we couldn't see them. As the bus left, we drove past a viewpoint for the largest waterfall, and the swollen cascade was indeed hammering the viewing platform.
Since we were all soaked to the skin from the rain, it was a long and damp ride back to the port. We arrived back after dark, not long before the ship was scheduled to set sail, and I got aboard, took a quick warm shower and changed into dry clothes, then hurried to join Rebecca and her parents for dinner. They told me that they had seen some of the countryside and stopped at a couple of tourist markets, but they had not seen many of Costa Rica's main attractions. Since they did not go into the highlands, however, at least they didn't get rained on all day.
-- KJA