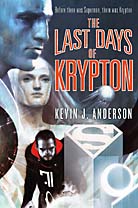 Last Days of Krypton Final Tour Schedule
Those of you in Washington, Oregon, California, Georgia, as well as New Zealand, and Australia, have had a chance to attend my book signings in the past two months. When putting together the ten-day LAST DAYS OF KRYPTON tour, we made sure to pick new cities to give other fans a chance.
So, it's time for Colorado, Utah, Nevada, Arizona, Wisconsin, Illinois, Michigan, and Minnesota.
I hope you can come to one of the events listed below. I'll be signing KRYPTON, SANDWORMS OF DUNE, "Seven Suns" books, or any of my other novels.
October 24, 2007, 7:00 PM MDT
Barnes & Noble
8374 S. Willow St.
Littleton, CO 80124
303-706-9660
October 25, 2007, 7:00 PM MDT
Borders
4801 N. University Avenue
Provo, UT 84606
801-224-2720
October 26, 2007, 8 - 10 PM MDT
American Association of School Librarians Annual Meeting
"Authors, Chocolate, Champagne, and...You!"
Silver Legacy Resort Casino
Silver Baron Ballroom A
407 N. Virginia St.
Reno, NV 89501
The library event is open to anyone who buys a ticket. Tickets, which are $25 in advance or at the door, can be purchased on our website or by phone at 800-936-5872 with a credit card through October 20, 2007. The general public is welcome to purchase tickets and they do not have to be attending the conference to do so.
October 27, 2007, 7 PM MDT
Changing Hands
6428 S. McClintock Drive
Tempe, AZ 85283
480-730-0205
October 29, 2007, 7 PM CDT
Borders
3750 University Avenue
Madison, WI 53705
608-232-2600
October 30, 2007, 7 PM EDT
Borders
612 E. Liberty St.
Ann Arbor, MI 48104
734-668-7652
November 1, 2007, 7 PM CDT
Barnes & Noble
1630 Sherman Ave.
Evanston, IL 60201
847-424-0848
November 2, 2007, 2 PM CDT
University of Minnesota Bookstore
300 Washington Avenue SE
Minneapolis, MN 55455
612-625-6564
-- KJA