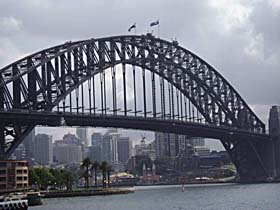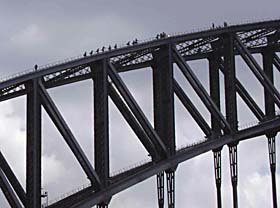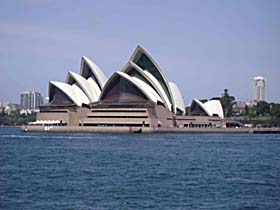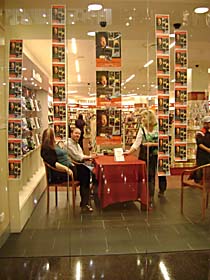 Sydney and Canberra
At the Sydney airport we met Camilla for the first time, the Simon & Schuster representative who has been handling all our travel details and putting up with our persistent questions since last January. Camilla had made her way through airport security and intercepted us just after we exited the plane. Before going to collect our baggage, she led us to two other airport bookshops on the way, where I signed their displays of METAL SWARM.
In the car Camilla handed me some newspaper clippings of the interviews I had done on the busy day in New Zealand, along with the bestseller list published by the Sydney Telegraph. METAL SWARM is the #1 bestselling SF/F title in Australia, and SANDWORMS OF DUNE is #5 -- two books in the top five. That made my day.
Camilla drove Rebecca and me to a lunch meeting with all of my publishers representatives for Hachette (which, in its various arms is responsible for SANDWORMS OF DUNE [Hodder], CRYSTAL DOORS [Little, Brown], and "Seven Suns" in the US as well as the forthcoming TERRA INCOGNITA series [Orbit]). She dropped us off and took our bags to the hotel while we met all of our Hachette colleagues. Because the Orbit team had only just learned about TERRA INCOGNITA, I enthusiastically described the series to them, including all the research and brainstorming I was doing in Australia.
That afternoon was one of the most-anticipated parts of the whole trip, my climb of the Sydney Harbour Bridge. Along with a group of about a dozen people, I doned a jumpsuit, ropes, and cables, then followed a guide up the piers, through all the incredible superstructure, catwalks, and crossways of one of the world's largest bridges. We climbed the span to its apex, high above the bustling traffic, where we watched the sun set. Darkness fell over the Sydney Harbour, the famous opera house, the skyline, the Blue Mountains in the distance. Sydney is one of the absolute most beautiful cities I have ever seen. As the night deepened, I saw the Southern Cross for the first time from the top of the bridge.
Next morning, Rebecca and I booked a boat tour in and around the harbour to see all the local sights. Again, what a beautiful city. Then the fun was over, and we met with Camilla after lunch for driving around to other bookstores, and to an evening signing at the specialty SF store Infinitas, then dinner with Camilla, her assistant Amanda, and Francois, the Deputy Marketing Director of Simon and Schuster.
Another day of stopping in at bookstores to sign their stock, a lunchtime signing at Galaxy bookshop, then an evening signing out at a shopping mall. By now, from the scratchiness in my throat and a persistent headache, I could tell I was coming down with a cold.
The following day, we were off to be guests at the Conflux Science Fiction Convention. Sure enough, I woke up with a horrible sore throat and a very croaky voice. I took whatever cold medication I could find in my travel kit, then we left Sydney on a short flight to Canberra, Australia's capital city.
The convention chair, Nicole, met us at the small Canberra airport, where she was also picking up fantasy author Garth Nix, another guest. Garth had lost his luggage and by now, unfortunately, I had lost my voice. My sore throat had developed into full-blown laryngitis; and Rebecca and I were due to have lunch with all the convention committee, and then we were to give our two-hour workshop, "Things I Wish Some Pro Had Told Me."
I drank a lot of hot water with lemon and honey at lunch, brought bottles of water with me, and Rebecca and I toughed it out through the workshop. I managed to rasp through what I needed to say, relying on Rebecca to do a lot of the talking. That evening for the opening ceremonies, when I was supposed to be giving a reading, fellow author Jack Dann had a fine time trying to get me to sing, or even defend myself verbally. Nothing more than a whisper or a squeak came out.
I've been on the road almost constantly since San Diego Comic Con at the end of July and this is the first time I've been hit with a cold, which is pretty good, considering how long I've been running on fumes. But that didn't help the attendees of the Canberra SF convention much, who had to put up with my silent treatment, gasping through answers, trying to give my panels. Rebecca really got to shine throughout the convention, though, since she could give most of our talks by herself anyway, and she got the attention she deserved, rather than having me in the spotlight all the time. I participated in a panel about writing disaster or "end of the world" fiction, I gave an hour solo panel about DUNE and SEVEN SUNS, had a kaffeeklatsch on writing with a small group of a dozen fans, then Rebecca and I also gave a workshop on "Increasing Writing Productivity." (Rebecca did most of the talking.)
On the last day, author Maxine MacArthur took me to her university office so I could print out a hardcopy of the first 100 edited pages of ASHES OF WORLDS, for Rebecca to begin reading and editing on the plane flight back. Even during this month-long circus, I did manage to complete all my major revisions to the last Seven Suns novel and completed a detailed polish of the first hundred pages. A decent start.
We hung out with other authors Sean Williams (again!), Garth Nix, Graham Joyce, Karen Miller, Simon Brown, Jonathan Strahan, as well as a lot of fans. The convention staff took great care of me, trying to track down cough lozenges and decongestants. Bernadette Foley, the new editor of Orbit Australia (whom I had met in Sydney at the Hachette offices), heard my rasping voice and immediately left the convention and drove to a pharmacy to bring back a new round of cold tablets before my next panel was over.
I was still stuffed up and achy by the morning when Nicole drove us back to the airport for our very long flight home (23 hours total, including two four-hour layovers). Though our seats were very nice, I felt miserable, coughing, sniffling, unable to speak out loud. As I write this, we've made it as far as LA, with another hour to wait before we board our last leg back home to Denver. I can't wait to sleep in my own bed tonight.
-- KJA