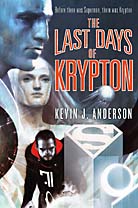 Last Days of Krypton Contest and Schedule
HarperCollins is currently running a contest for LAST DAYS OF KRYPTON. The grand prize is a replica of kryptonite from SUPERMAN RETURNS, provided by DC Comics. Check out the contest at the HarperCollins Website.
Also, even though I'm still in Australia doing book signings for METAL SWARM, the details of next month's tour for KRYPTON are starting to fall into place. Currently the scheduled stops are Denver/Littleton (CO), Provo (UT), Reno (NV), Phoenix/Tempe (AZ), Madison (WI), Ann Arbor (MI), Chicago/Evanston (IL), Minneapolis (MN) and Salt Lake City (UT). A partial schedule has already been posted on Scheduled Appearances. Full details will be posted soon.
-- KJA